Welcome to the Firestone Idle RPG Wiki!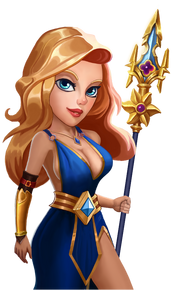 Firestone Idle RPG is a multiplayer idle adventure game published by Holyday Studios. In this game, your party of up to 5 heroes and a guardian is fighting hordes of increasingly harder enemies. The earned gold and firestones allow you to research upgrades which will make your team stronger and stronger. In guilds, you can collaborate with other players.
Releases
The game was first published in a closed beta version on Kongregate on 1 April 2019. It was made available to the wider public on 9 May 2019 on Kongregate and ArmorGames. On 20 September 2019, the game was published on Kartridge and on 26 September 2019 on Steam. On May 18 2020, the game was published on R2Games.
Play the game on:
The game is still in development with weekly updates. The current game version is 4.0.6 (released June 29, 2020).
Help
The game features an in-game chat where you can communicate with other players currently playing. In addition, you can ask questions about the game and get help in the following places:
Important articles
Other languages
Community content is available under
CC-BY-SA
unless otherwise noted.